Dutcher Crossing
Ambiance
Like stepping into a wine country painting.

You'll see what I'm talking about as you scroll through the pics below.

From every angle the scenery is quintessential wine-country-picturesque.

Cheerful cottage flowers line the path as you walk to the tasting room.

Emerald green Dry Creek Valley views off in the distance.

Around every corner, reality is skewed.

Is this fake?

Am I inside a Sonoma County painting come to life?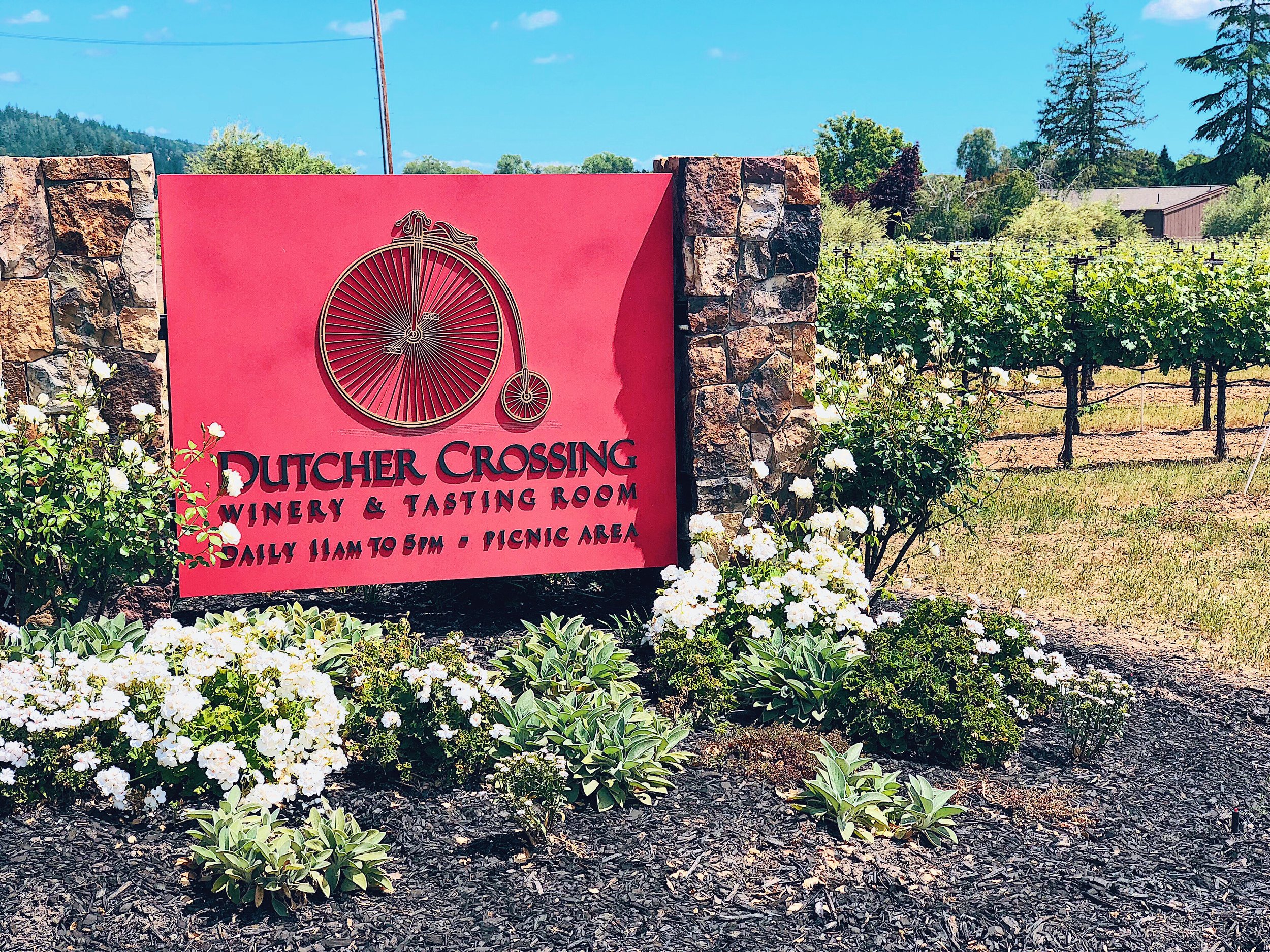 Inside the tasting room I like to sit near the rustic fireplace in a stately wingback chair.

Pour me a glass of Zin, light me a pipe, and put a curled up bloodhound at my feet.

Then there is the tasting room bar.

Long with plenty of room for many wine lovers to stand and taste.

I enjoy options when I taste wine.

I can chat inside with the tasting room staff...

Or

I can wander outside on the beautiful grounds while I sip.

The next time I visit I'm bringing a picnic.

Today, when I went to taste, several little birds swooped around me.

As cozy, quaint and charming as a winery can be.
Cost:
$20 for a tasting.

This fee is NOT waived with a wine purchase.

Keep in mind, this is a small production winery with exceptional wines.

Pay the tasting fee.

You will not be disappointed.

Wines range from $28 to $52 per bottle.
Appointment Needed?
Tasting room and picnic area open 7 days a week from 11am-5pm.

The staff at Dutcher are beyond FRIENDLY.

Debra Mathy, proprietor, is often on site with her yellow lab Dutchess.

Pop in.

Such a welcoming winery.

Also, this winery is KID FRIENDLY!
Wine Pick
Too hard to pick just one.

Last night, I met up with two of my best friends since FIRST GRADE.

We had a little reunion dinner.

It was essential to bring a special bottle for this special occasion.

Dutcher Crossing 2016 Brothers' Reserve Zinfandel.

OUTSTANDING!!!!!

I really wanted to bring a wine that showcased Dry Creek Valley and Sonoma County.

Mission accomplished.

We drank every last drop and my friends were impressed.
Dog Approved
A very enthusiastic YES!

Move over Hollywood's 'Marley & Me'...

The story of 'Dutchess The Wine Dog' is Hollywood's next blockbuster.

Yellow Lab, Dutchess, came all the way from TAIWAN!

A dual language pup ;)

Dutchess is official winery greeter.

You can spot her in the 2018 Wine Dogs USA Calendar.

If you've followed me on my Insta, you know I have a labrador too.

My little Lexi is a Chocolate Lab.

Dog people, and especially labrador people, are my tribe.

Lexi and I give this winery two paws up!

Dogs are welcome at Dutcher Crossing as long as they are leashed, friendly, and Dutchess approved.
Social Media Worthy
HECK YES!

Remember how I said this winery was like walking into a painting?

With Dry Creek Valley as your backdrop, there is no way you can mess up a picture.
Feel Good Vibes
See the vintage high-wheel bicycle below?

This bike is pivotal.

You'll spot the bike on almost every Dutcher Crossing label.

The bike was a special gift from Debra's father.

The last gift she received before her father passed away.

Debra's dad was very instrumental in encouraging her to pursue her dreams of owning a winery.

From growing up in Wisconsin to landing in Dry Creek Valley...

Debra's dad was along the journey encouraging her.

He passed away right before Debra made an offer on Dutcher Crossing.

Although he never saw Debra's dream made realized, he is interwoven in the soul and essence of the winery.

The website eloquently writes:

"The high-wheel bicycle represents Dutcher Crossing's pursuit of quality small-lot winemaking, the guiding power of her father's imagination and the journey that lies ahead."
Wine Nerd Facts
When I post about a winery I like to dig deep!

In my research of Dutcher it was a treat to stumble upon Debra's blog.

Going back to 2008.

Right after she took over the Dutcher Crossing Property as Owner.

Debra has a blog!

She is quite an entertaining writer.

It's fascinating to walk along side her as she sets out to own and operate a winery!

Reminds me of Under The Tuscan Sun with Diane Lane

(hmmmmm there seems to be a movie theme to this blog post)

A writer who takes an Italian vacation and through various serendipitous events becomes the owner of a Tuscan Villa.

Have you seen the movie?

I won't go into all the details.

Anyways, Debra's blog is like this.

The journey.

Buying a winery.

Moving from Wisconsin.

Leaving family behind.

Setting off on an ultimate life adventure.

A blog that spotlights her twists and turns.

I don't think she updates the blog now...

Darn

I'll still cozy up on the couch with a glass of her wine and live vicariously through her!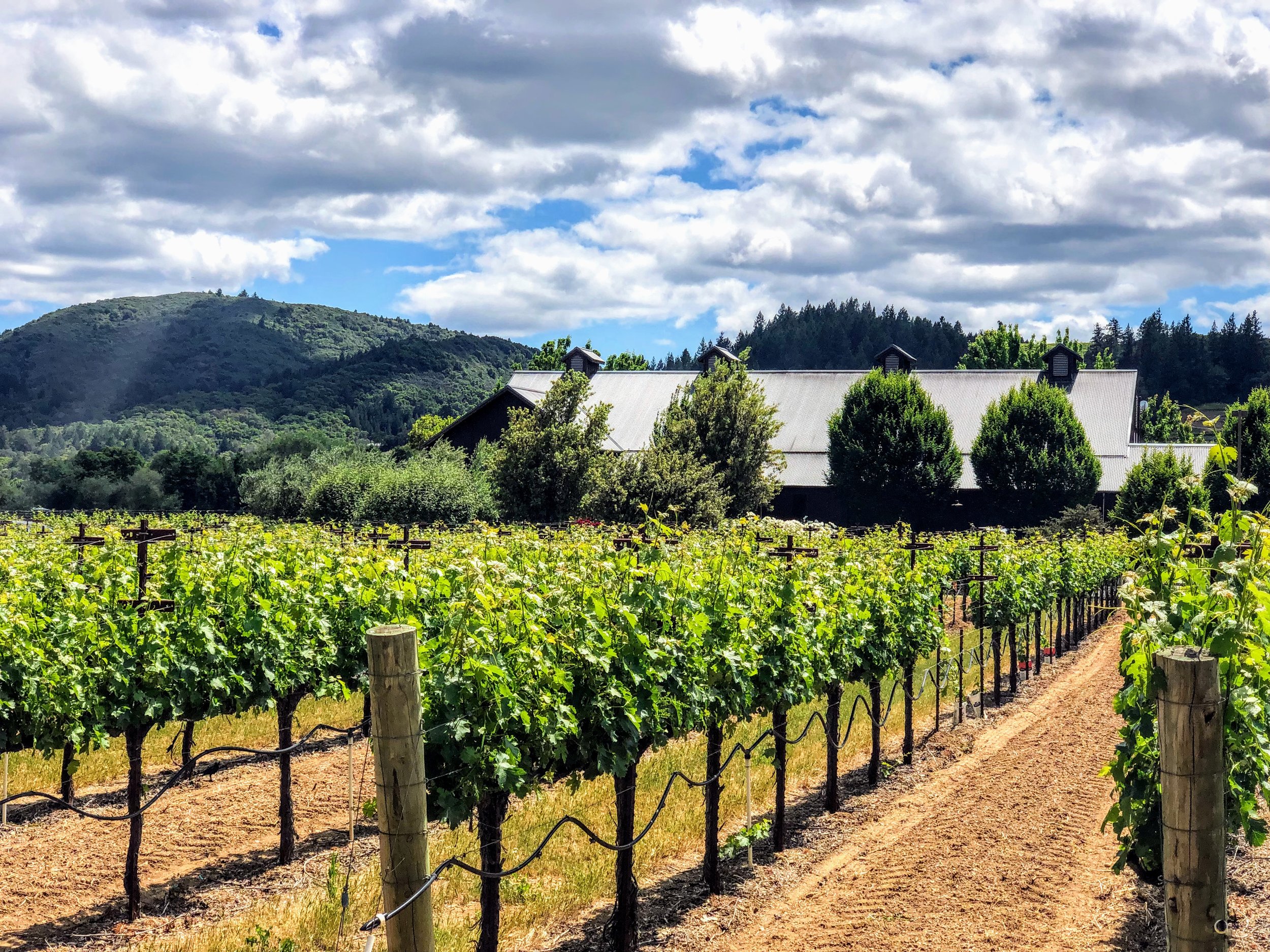 Wine Club? Fun Events?
As of this year, 2018, Dutcher Crossing is the only wine club which I can say I am a proud member.

I look forward to my shipments.

Happy Wine Mail!!!
Sheila's Tasting Notes
I have a key nugget of juicy info.

If it hadn't been for Dutcher Crossing there would be NO 100 Wineries In 100 Days!

During Winter Wineland 2018, I was sitting in this very chair pictured below.

My friend Chrissy was sharing a story of how when she moved back to Healdsburg from college she thought about visiting 100 wineries with her best friend.

My ears perked up as I listened to her story.

What if Sonoma Wine Life did 100 WINERIES IN 100 DAYS?!?!?!?!?!

And so it was....

And here we are.

So what are my tasting notes for Dutcher Crossing?

When I open a bottle of Dutcher Crossing I....

Have my best ideas.

Have my best memories shared with friends.

Have my little Debra movie playing in the background.

Dutchess the winery pup, a loving dad surrounding the winery in love, and a brave gal from Wisconsin making her dreams a reality.

Two thumbs up!